Keeping dogs entertained during the day can call for a bit of creativity! The reality for many has been a ground-hog style 'bring your dog to work day' every day for the past 18 months and counting… And whether you are starting to head back to the office with your dog in tow, or are still WFH, Team Vital Pet Club is rounding up some top tips for getting work done while avoiding boredom in your four-legged (and let's be honest, all time fave) colleague. Read all about how to work from home with dogs…
When is bring your dog to work day?
June 25th is officially 'bring your dog to work day'! Although it is of course up to your employer whether this is permitted under their health and safety guidelines and company policies.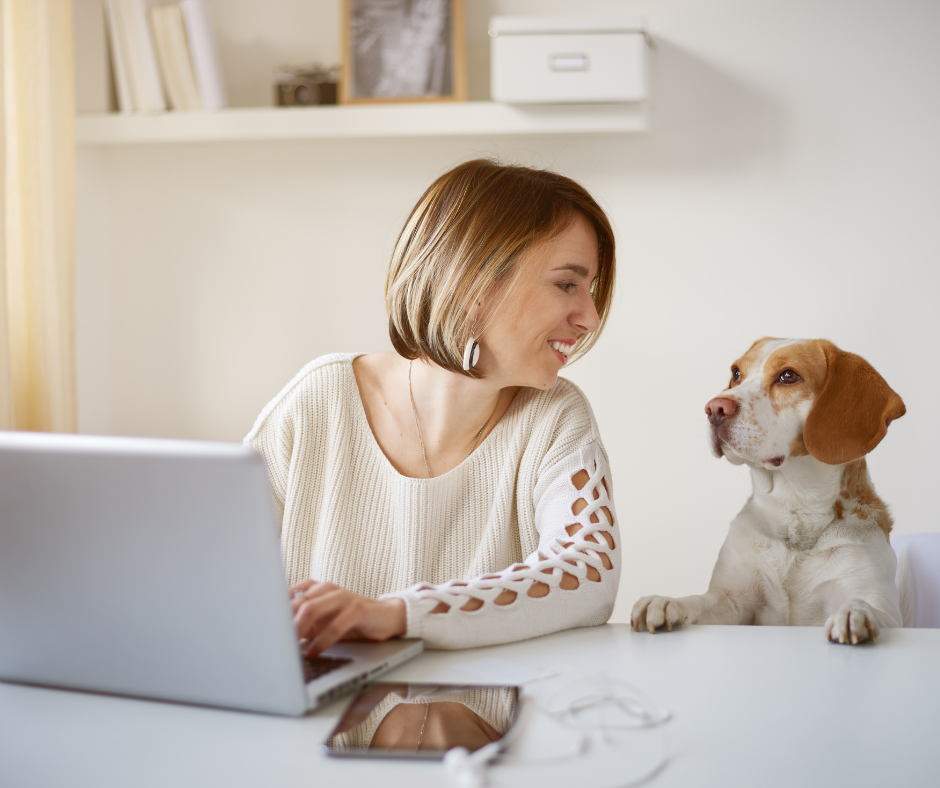 Working from home with your dog
Routine is key – most pets are creatures of habit and can feel unsettled by too much change. Some of this is down to physical needs, as it can be really uncomfortable being let out for the toilet later than normal in the morning. But this is also a mental/behavioural need too, as pets learn to understand their owner's schedule through association (e.g. shoes = walkies) and too much uncertainty leads to worry.
Walk first! It might be tempting to check a few emails, but you are less likely to be pestered if your doggo gets their morning exercise first. This lets them burn off some energy and use their brain, to make for an altogether calmer start to your work day.
Space for both of you. It's not ideal when Fido photo bombs your conference call, but they don't appreciate having nap time disturbed when you are procrastinating either. Make sure they have some quiet space and a couple of comfy bed options to have a snooze.
Back to basics. If some of your dog's behaviours are causing a workplace distraction, like barking at the door, it's never too late to get some training sessions in. However, if your pet is showing signs of anxiety, such as destructive behaviours, or you aren't having any luck with your own training then speak to a qualified pet behaviourist or vet for advice.
Don't over-treat. Our pets need to get used to being ignored for parts of the day while we are working. And while it can be tempting to use treats to get a bit of peace and quiet, this can lead to weight gain, putting your pet at increased risk of developing certain health conditions. Keep treats for when you really need them and adopt some other tactics to keep your dog entertained the rest of the time.
Brain games. There are some fab doggy brain puzzles that can keep them occupied for a while, and are great mental enrichment. These are generally food-motivated so it can work well to keep back a small portion of your pet's breakfast for these, to avoid over-feeding.
Chews. Speak to your local pet shop expert about the different options – they are sure to have something to suit your pooch! For anything food, treat or chew-related, it is best not to leave your pet unsupervised, this goes for the brain games too.
Dog-proofing. Lots of people have really upped their house plant game in the past year, or made some DIY changes to their home. Avoid worry while you are working by dog-proofing your house and garden.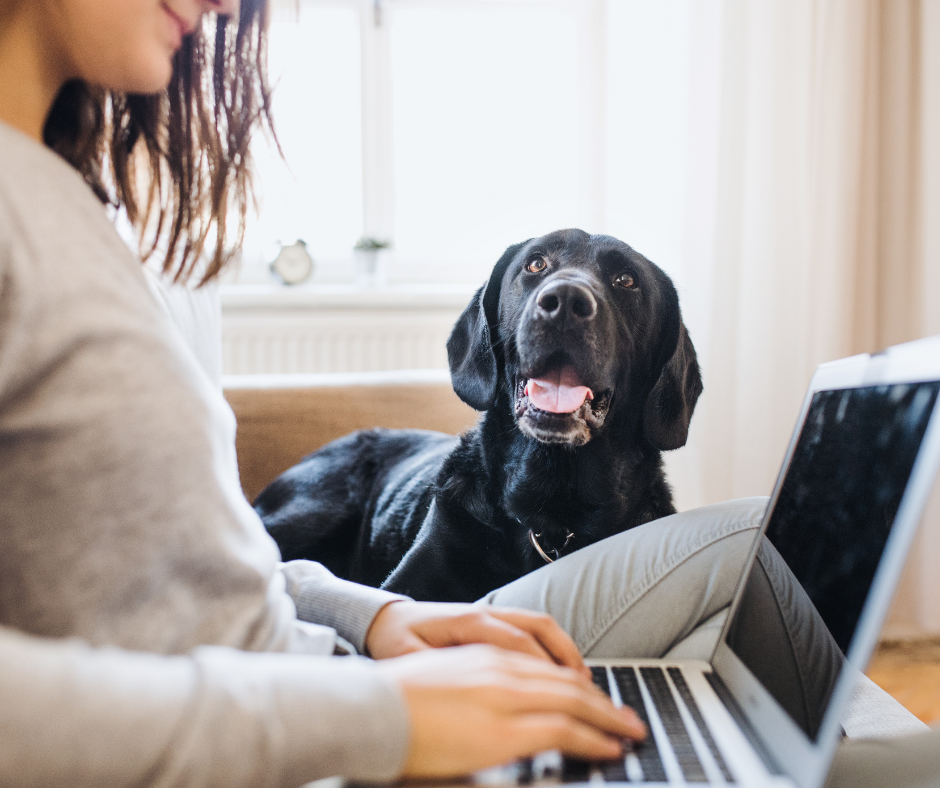 Make it work for you:
While figuring out how to work from home with dogs has been a challenge, it's also had plenty of benefits too. Regular dog walks have been useful brain breaks, feeding our pets reminds us to have our own meals and there is evidence that pets reduce our stress levels and can even boost productivity.
Got your own tips on how to work from home with dogs? We'd love to hear them! Drop us an email at hello@vitalpetclub.co.uk. Or if you're heading back to the office and worried about the affect on your pet, read our advice article on separation anxiety.