Planning a staycation with your dog? With staycations set to be the holiday of choice for Brits over the next couple of years, pups will be able to experience the British mountains, beaches and forest, as well as even more time with their beloved hoomins! After having their owners at home more often recently (which obviously means full-time attention and loads of walks) there is no doubt that our four-legged friends will be over the moon when they discover they will also be able to accompany us on holiday.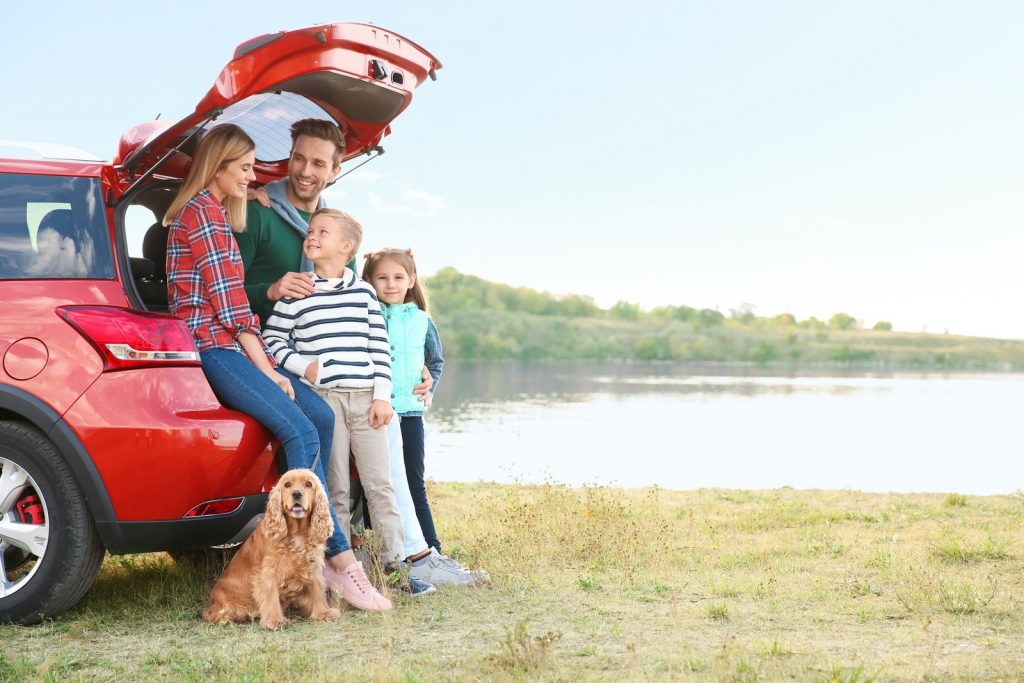 Dog staycation checklist:
We've created a checklist that includes everything you will need to holiday with your pup!
Portable water bottle and bowl
Food with food bowls
A secure leash
An extra collar with up to date contact information
Treats
Dog bed with lots of comfy blankets
Toys to play with
Poop bags (bring lots!)
Dog-safe wipes (in case your pup needs a quick clean up on the go!)
Torch for toilet trips during the night or evening walks
Medication (if your dog takes any)
You will also need your vaccination records and an up-to-date pet passport if you're travelling abroad with your pooch.
Travel with pets
When travelling with your pup, it's important to plan ahead and think about how you want to travel, and whether this will suit your doggo.
Firstly, it's important to consider your dog as an individual- are they young or elderly, nervous or confident, large or small? All of these factors will come into play when deciding how best to travel with your pup.
For example, dogs that are nervous around people they don't' know may be happier travelling in a car with their family rather than on a train with strangers. And adult dogs may be comfortable travelling a longer distance compared to very young or elderly pooches. It also may be impractical to take a Great Dane on public transport, compared to a well-behaved chihuahua- as smaller breeds will take up less room and won't affect other passengers.
Once you've considered your pup and their needs, there are also several more general things to consider…
Travelling with your dog by car
Firstly, it's important to be aware of the dog car laws in the UK. The highway code states that dogs must be suitably restrained with, 'a seatbelt harness, pet carrier, dog cage, or dog guard'. This is because, by restraining your dog in the car, you will help to prevent the risk of them hurting themselves, or others if you have to stop suddenly.
Which option you choose to restrain your pup is up to you, but it's important to think about which type of restraint will make your pooch more comfortable and happy, as well as which choice is the safest.
Another factor to take into consideration if you are planning a staycation with your dog, is whether your dog could get car sick. Like humans, many pups suffer from car sickness and this can range from nausea and salivation to vomiting. If your pooch does feel sick when travelling, it's important to let them have a short break from car journeys, before slowly getting them used to car travel again. This is because your pup is likely to feel nervous or fearful around the car if they've had bad experiences (such as feeling frightened or sick) in the past.
Here are few simple steps we would recommend that can help to make your pup feel happy in the car again and get your dog staycation off to the best start:
Get your doggo used to being around the car during times when they don't need to travel.
Once your pup is happy approaching the car, try to encourage them to climb inside.
Once your pup is comfortable inside the car try to slowly and gently restrain them with a seatbelt or harness, or encourage them to walk into their doggy crate. You can also try turning the engine on to get your dog used to the sound.
When your fluff ball has gotten used to being restrained in the car, try going for short 2–3 minute trips, then gradually increase the journey length if your pup is coping well. Always make sure to increase the trip lengths very gradually and base this on how your pup is coping.
It's vital to reward your pup with lots of treats and fuss during every stage of this process so that they see the whole experience as something fun and positive. If your pup starts to show signs of sickness or fear (such as drooling, shaking, vomiting or cowering) it's important to give them lots of breaks and not to keep attempting a step if it's making your pup anxious or unhappy.
If these steps aren't working, or if you have any concerns, it's always important to speak to your vet, as there are other car sickness treatments that they may recommend. These treatments include anti-anxiety products such as calming supplements and pheromone releasing sprays and collars. And there are also several different anti-sickness medications that your vet may prescribe including dog car sickness tablets and oral gels- but it's essential that you always speak to your vet before medication your pup and never give human medications as these can be very dangerous for your pooch!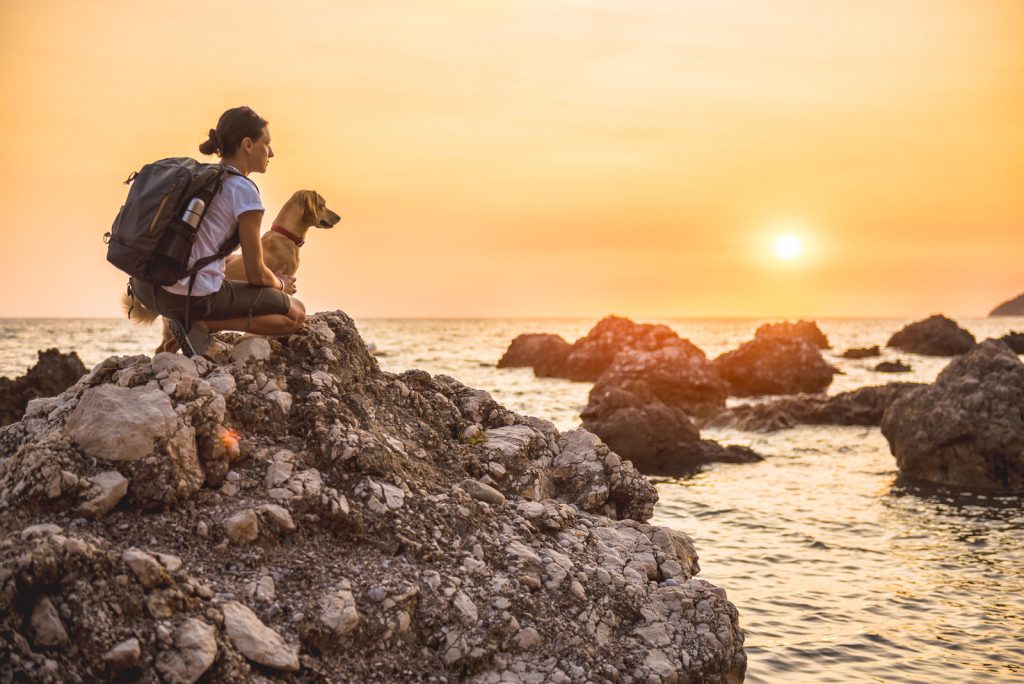 Travel with your pet by train
Can your dog travel by train? Whilst most national rail services do allow dogs to travel with their owners, it's always important to check with the rail company you will be travelling with. It's also good to make sure you are up to date with the rail company's current rules and regulation on how you are allowed to travel with your pup.
Like with car travel, it's important to get your pup used to the train as much as possible. You can start off by taking them to the ticket hall so they can get used to the noise, as well as all the hustle and bustle! Then take them on short trips on the train, gradually increasing the length of your journey if your pup seems comfortable and happy- but always watch your doggo closely for signs of stress and fear! Other tips and tricks to keep your dog calm during train journeys can include finding a seat where your dog can sit beside you, always keeping your pooch on a lead and trying to avoid travelling during busy times.
Dog dehydration
Whether you choose to travel with your pet by train or car, it's extremely important to make sure they don't get dehydrated, especially when the weather is hot. You should make sure your pup has regular water breaks, and you can also purchase travelling water bowls for train journeys. Make sure your car is well ventilated and not too hot, and try to sit next to an open window when you take your doggo on the train.
Never ever leave your pet alone in the car for a long period, especially if it's a warm day. Leaving dogs unattended in cars can be very dangerous as they can easily get too hot or injure themselves- and this can happen even if you have parked in the shade with the windows down.
Dog friendly hotels
Make sure the hotel you stay in is dog friendly, as many hotels do not allow your four-legged friend to stay with you. And many pup-friendly hotels will also have extra features that will make your stay more comfortable for your pooch such as beds, bowls, treats and some even have doggy spa treatments!
It's also worth checking the local area for dog-friendly pubs and restaurants so you can take your doggo out and about with you during your stay.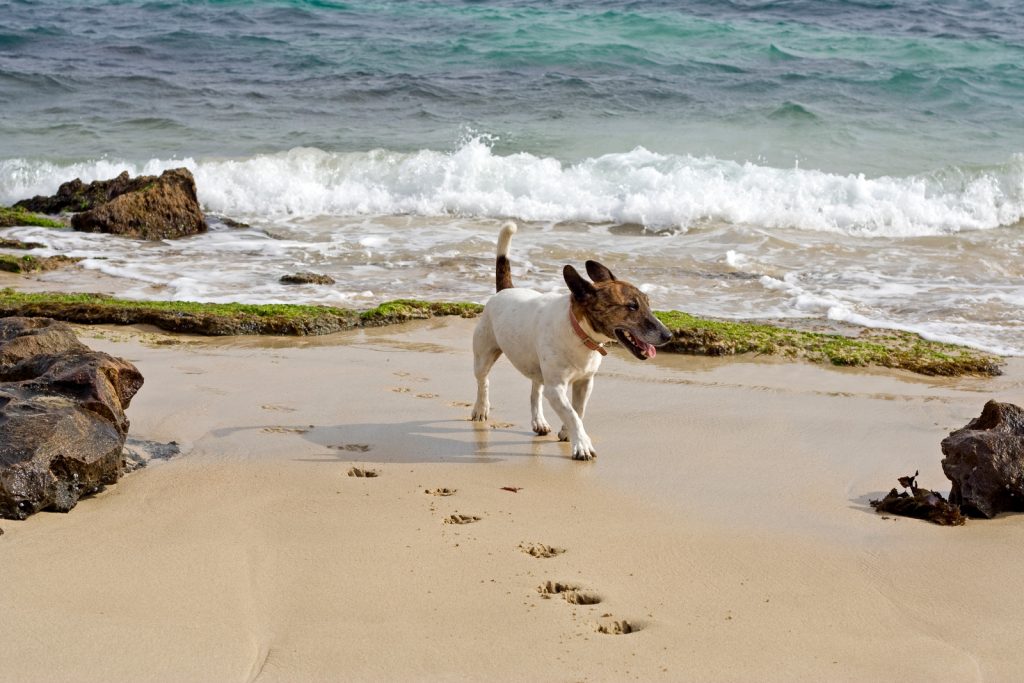 Holidays abroad
If you decide you want to take your pup further afield, it's important to speak to your vets as your pooch may require a pet passport, vaccinations, worm treatment and they may also need to quarantine. If your dog is travelling to Europe or beyond it's a good idea to get clued up and prepared as early as possible on what they will need in order to travel as extra vaccines and doggy passport applications can take some time to sort!